There's a Honda Hybrid for Everyone
There are a ton of reasons to go for a hybrid. Maybe you want to save money. Maybe you want to save the environment. Maybe you just want to stretch out stops between gas stations on road trips.
Hybrid vehicles combine the efficiency of electric vehicles with the convenience of traditional full gasoline-powered vehicles into a great package. The modern hybrid is the pinnacle of technology, and offers an unbeatable combination of fuel economy, power, and range. It's not a question of whether a Honda hybrid is a good choice anymore – it's a question of which Honda hybrid is the best fit!

The 2021 Honda Clarity Hybrid
The 2022 Honda Insight Hybrid
The 2019 Green Car of the Year award winner and also the 2021 Safest Small Car, the Honda Insight has come a long way. The name may have continued over the years, but the modern Insight has almost nothing in common with the original two-door subcompact, or even the second-generation four-door compact.
Sitting parallel to the Civic, the Insight is affordably priced. The 1.5-liter gasoline engine combines with an electric motor to produce instant torque and 151 horsepower, for an excellent combination of immediate acceleration and easy cruising. The base model gets up to 55 MPG around town and 49 MPG on the highway and offers a smooth ride. Steering is precise, thanks to the battery pack creating a low center of gravity. Regenerative braking helps to add power back to the battery and can even work almost like one pedal driving when at its most aggressive!
Stepping up to the Touring trim of the Insight adds leather trimmed seats with heating in the front seats, a moonroof, dual-zone automatic climate control, and an upgraded infotainment unit. This added power draw and weight reduces the efficiency, although at 51 MPG city and 45 MPG highway it is still incredibly efficient for a compact car. All Insight models feature the stellar Honda Sensing suite of safety features, including forward collision warning, a collision mitigation braking system, lane departure warning, lane keep assist, traffic sign recognition, road departure mitigation, and adaptive cruise control.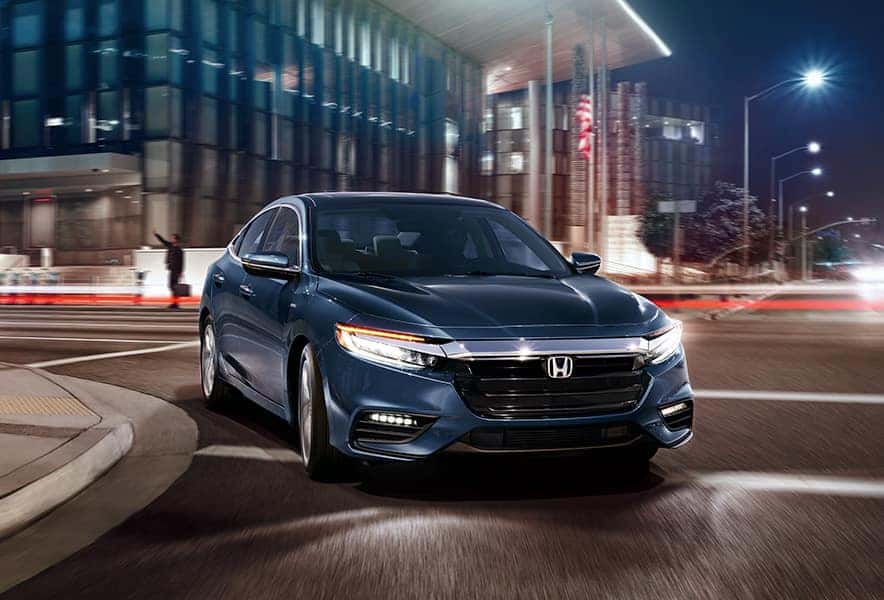 The 2022 Honda Insight Hybrid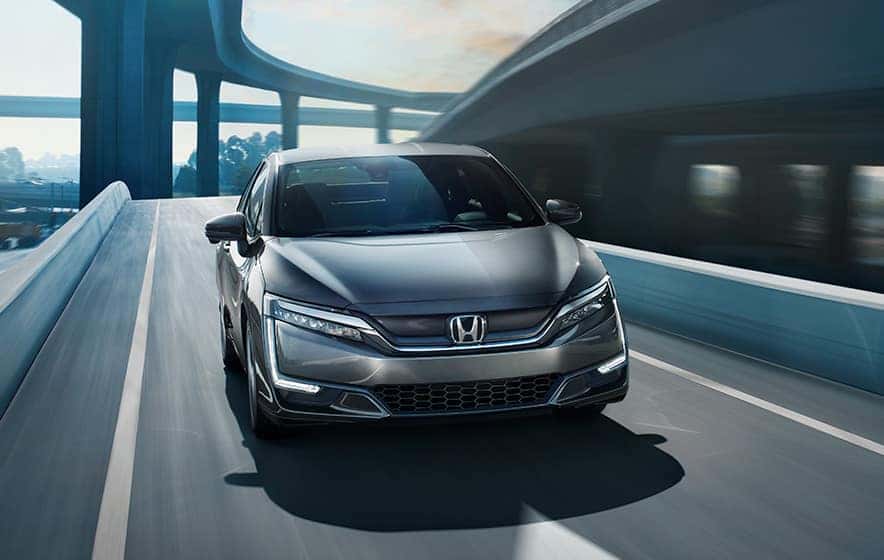 The 2021 Honda Clarity Hybrid
The 2021 Honda Clarity Hybrid
Kelley Blue Books' 2020 Best Buy in the Electric/Hybrid Car segment, the Clarity Hybrid is a plug-in hybrid. This means it isn't just using electric and fuel power to get along – it can run solely on electric only, for up to 48 miles of range!
A mid-size sedan with seating for up to five, the 2021 Clarity features a drivetrain that combines a four-cylinder gas engine, two electric motors, and a lithium-ion battery pack for a combined city/highway fuel economy rating of 110 MPG-e (What is MPG-e?). While the power train is good at cruising and superb for city start/stop driving, it isn't built for high-speed overtaking on highways. Charging the plug-in hybrid takes roughly 12 hours with a standard 120-volt household power outlet, or 2.5 hours with a dedicated 240-volt charger.
Inside the Clarity you get the usual Honda creature comforts, including an easy-to-navigate 8-inch touch screen with Android Auto and Apple CarPlay integration, an eight-speaker stereo, and two USB input ports. The stereo can be upgraded to a 12-speaker stereo, while dual-zone automatic climate control is also available.
You'll want to grab a Clarity PHEV while you can – unfortunately, Honda has announced they will cease production after the 2021 model year. But if you get it now, you'll have those savings at the pump for years to come!
The 2021 Honda Accord Hybrid
What's the best way to get a popular hybrid? Take one of the most popular sedans on the market and turn it into one! The 2021 Honda Accord Hybrid has taken this formula and turned out one of the highest-rated midsize hybrids on the market – just ask MotorTrend or U.S. News and World Report!
The interior of the Accord Hybrid is welcoming, upscale, and features a ton of premium-feel materials. It's an award-winning interior that has made the Accord a top seller – why mess with it? The standard 8-inch touchscreen is crystal clear and easy to navigate, and features Apple CarPlay and Android Auto integration. The four-speaker sound system can be upgraded to an eight- or 10-speaker unit, and navigation and wireless device charging can be added. Dual-zone automatic climate control is standard, along with keyless entry and remote start, perfect for the cold months!
2021 Honda Accord Hybrids come equipped with the Honda Sensing safety suite standard, which includes forward collision warning, automatic emergency braking, adaptive cruise control, lane departure warning, lane keep assist, and road sign recognition. Additional blind spot monitoring and rear cross traffic alert systems are available.
This is all the same as a traditional Accord, but under the hood is what really sets it apart. The front-wheel drive Accord features a 212-horsepower hybrid system paired with a continuously variable transmission (CVT). This leads to 48 MPG city/highway/combined in the base version, with the Touring model getting 44 MPG city and 41 MPG highway due to more equipment. While these might not challenge the Hyundai Ioniq or Toyota Prius for economy, you get a lot more vehicle with the Accord – a great trade-off for many drivers!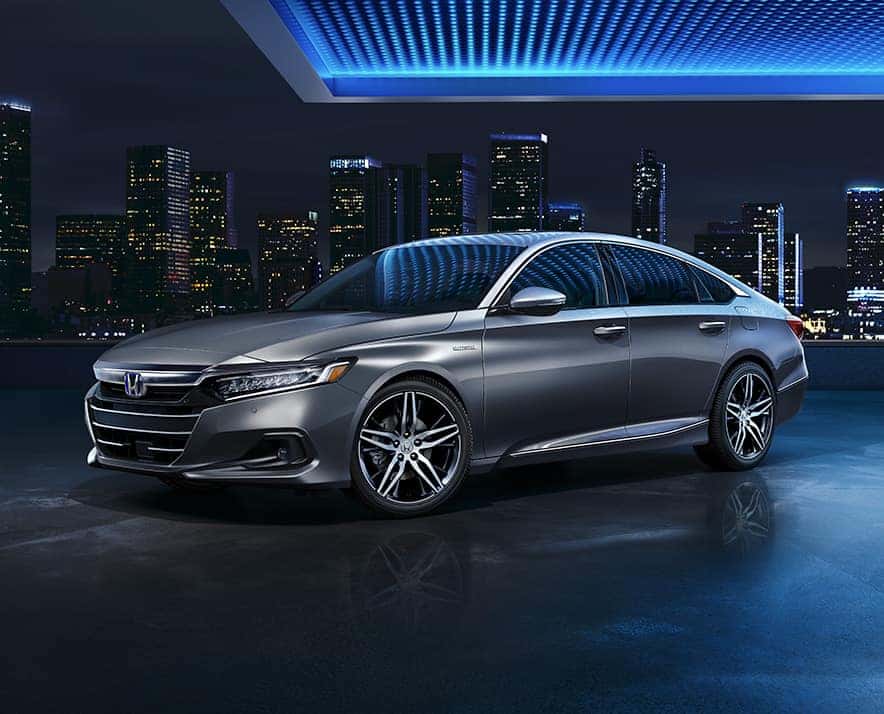 The 2021 Honda Accord Hybrid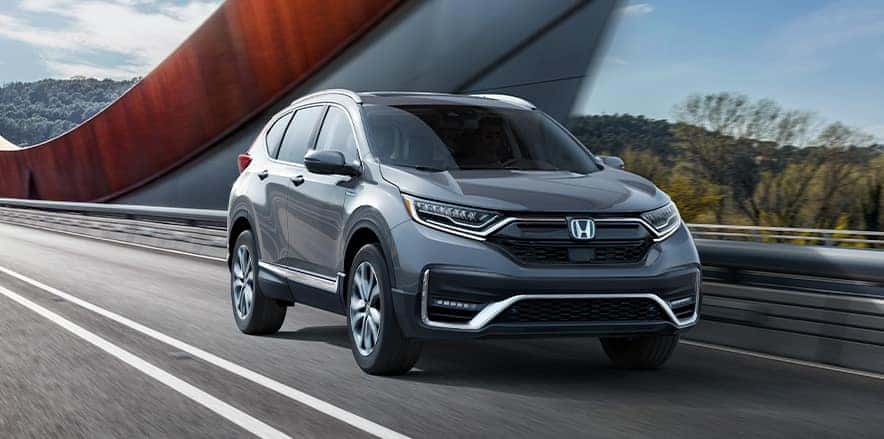 The 2022 Honda CR-V Hybrid
The 2022 Honda CR-V Hybrid
Sport utility vehicles are the dominant segment in the market today. So why wouldn't Honda want to make the best-selling compact SUV of all time into a hybrid?
Like the other Honda hybrids, the 2022 Honda CR-V Hybrid features an above-average interior in terms of quality, with excellent materials and solid wind and road noise insulation. It also offers plenty of room, with 33.2 cubic feet of space behind the second row of seats. Drivers needing the full storage area can get up to 68.7 cubic feet by stowing the rear seats. While this is smaller than the non-hybrid SUV due to the hybrid power train taking up extra room, it's still comparable to other hybrids SUVs and plenty for most drivers.
The powertrain is the same as the one in the Accord Hybrid, a 212-horsepower hybrid system paired with a CVT. However, unlike the accord, the CR-V features grippy all-wheel drive for poor weather and road conditions. Coupled with the heavier body, fuel economy is slightly reduced – but at 40 MPG city and 35 MPG highway, it's an improvement over the traditionally-powered CR-V and keeps pace with the rest of the hybrid compact SUV segment.
---
Which Honda Hybrid is Best for You? You Decide!
Pairing the reliability of Honda with modern, economic drivetrains makes the Honda hybrid family a smart place to look for your future vehicle! Lower impact on the environment and lower impact on the wallet at the pump, while maintaining Honda's high levels of quality, makes for a winning combination. We think there's a Honda hybrid for anyone – which is the right fit for you?
If you have any questions about our hybrid Honda vehicles please contact us or visit us at our dealership in Washington, PA today!
New Inventory
Used Inventory
Schedule Service
Contact Us